As part of her Verity's Lie blog hop, I am delighted to announce my very first guest poster! Author Grace Elliot is joining us today, with a fascinating post about coffee houses in the Georgian era. Grace is the successful author of historical romance novels, including her new book Verity's Lie, and a regular contributor to the English Historical Fiction Authors blog in addition to maintaining her own blog. Be sure to check out the links below after enjoying her post. Take it away, Grace!
Coffee Houses – the Georgian Equivalent of Facebook?
by Grace Elliot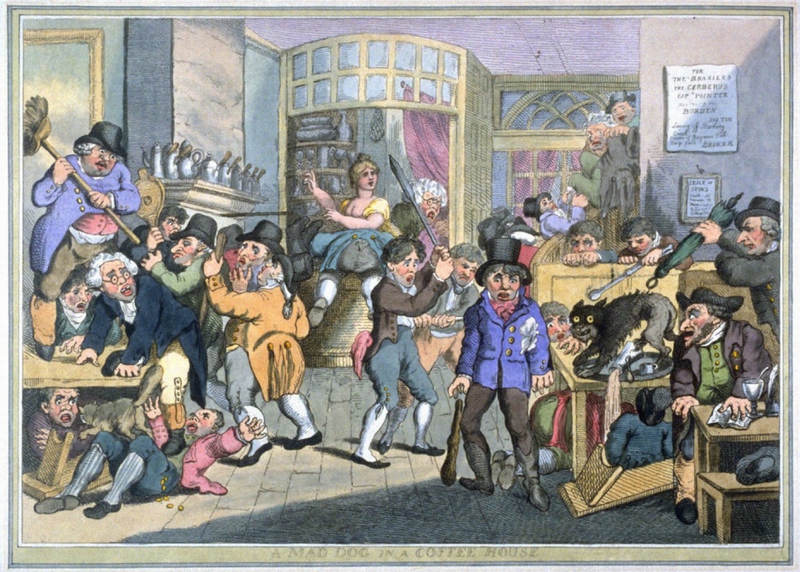 In the 18th century coffee houses were big business – much like today! A bit like the roll social media plays in the modern age, coffee houses were places for like-minded people to meet and debate issues or conduct business. In the previous century King Charles II recognised and was intimidated by the potential within coffee houses to organise rebellion and tried to ban them as:
"places where the disaffected met, and spread scandalous reports concerning the conduct of His Majesty [Charles II] and his Ministers"
Their history is such that it took just over two decades from coffee being available outside the Ottoman Empire, for a rash of them to appear all over Europe. England's first coffee house opened in Oxford in 1652, and by 1675 there were over 3,000 countrywide! Indeed, coffee houses were the fore-runner of the private gentlemen's clubs that became so popular in the late 18th century.
The popularity of coffee houses lay not so much in the hot beverages they sold, but as a meeting place. Each house had a distinctive clientele who gathered there to hear the latest news or gossip. By 1739, in London alone there were 331 coffee houses catering for various political groups, lawyers, doctors, stockjobbers, writers, artists or the like. A Frenchman, Antoine Prevost, visiting London commented that coffee houses were "the seat of English liberty", a place "where you have the right to read all the papers for and against the government." They also served another social function as a place to have mail delivered, to collect lost property or read newspapers.
One of the most famous coffee houses was Garraway's, near the Royal Exchange in London. In the 1800's you could purchase four ham sandwiches and a glass for sherry for two old pence, or feast on a pot of tea, six slices of bread, two crumpets and a muffin for a cost of ten pence plus a two pence tip for the waiter. But, men went there to do business, rather than dine. At Garraway's people of quality met to buy and sell books, paintings and shipments of tea, coffee or wine. This was done by the famous "inch of candle" sales – a bizarre system of auctioning goods where the successful buyer was the last person to place a bid before a candle stub burnt out.
Coffee houses were great social levelers when men of different classes could meet. It was not unusual for a physician to meet his patient there, or a lawyer his client. Added to that the coffee houses were often gloomy, poorly lit places with smoky atmospheres – they were the perfect places to meet people without arousing suspicion.
In my latest historical romance, Verity's Lie, the hero wishes to intruct a spy, so what better meeting place than a coffee house!
Excerpt from 'Verity's Lie'.
Needham's Coffee House was a place of business rather than pleasure, and the rooms were decorated accordingly. In the hearth hung a cauldron of coffee from which the servers filled their jugs. Clean sand on the floor, and a candle lit each wooden table; the patrons preferring their transactions to be conducted in the anonymity of gloom.
Ryevale entered this thick atmosphere of tobacco, coffee and coal smoke, the sickly smell catching at the back of his throat. Like so many shadowy monoliths, an assortment of merchants, lawyers, physicians and stock-jobbers sat hunched around tablets, deep in conversation.
Giving his vision time to adjust, Ryevale ducked to avoid a beam and crossed to his favorite corner booth with a view of the door. Sitting, he placed a document on the table and ran a finger down a column of figures, as if there to meet to his broker.
"Coffee, my lord?"
"Thank you, Williams. Most kind."
"Very good, I'll see to it myself."
Williams was Needham's proprietor; a man both unobtrusive and tight lipped, his character reflected in the coffee house's reputation for discretion. A well-dressed man wearing a pristine white neckcloth slid into the seat opposite, a copy of the Spectator clamped under his arm. His skin glowed with the freshly scrubbed appearance of a man come directly from the barber, a man who took pride in his appearance. Ryevale looked up and nodded.
"Hanley."
"Coffee for me as well, Williams."
"Of course, Mr. Hanley." Williams melted backwards.
"Good of you to come at short notice. I appreciate it, Hanley."
"No trouble."
A serving wench brushed past the table, casting doe-eyes at Ryevale, who smiled back absent-mindedly.
"Anything in the news?" he asked, nodding to the Spectator.
"The usual from abroad: Napoleon's antics on the run…another ambush…that sort of thing." Hanley had a cultured voice with an aristocratic twang.
"How is business?"
"Stocks are booming, despite the unsettled situation."
"Any tips?"
Hanley grinned. "After inside information?"
Williams approached with a coffee jug and two cups. "Here we are, your lordship, Mr. Hanley."
"Thank you, Williams." Ryevale pressed a shilling into his hand.
"My lord." Williams discretely withdrew.
Once alone with no one to overhear, Hanley leaned across the table with a glint in his eye.
"Enough small talk. I take it you need information?"
"I do."
Hanley smiled as he poured the coffee. "Good. Town has been dull lately; a diversion would be welcome."Author biography and links:Grace Elliot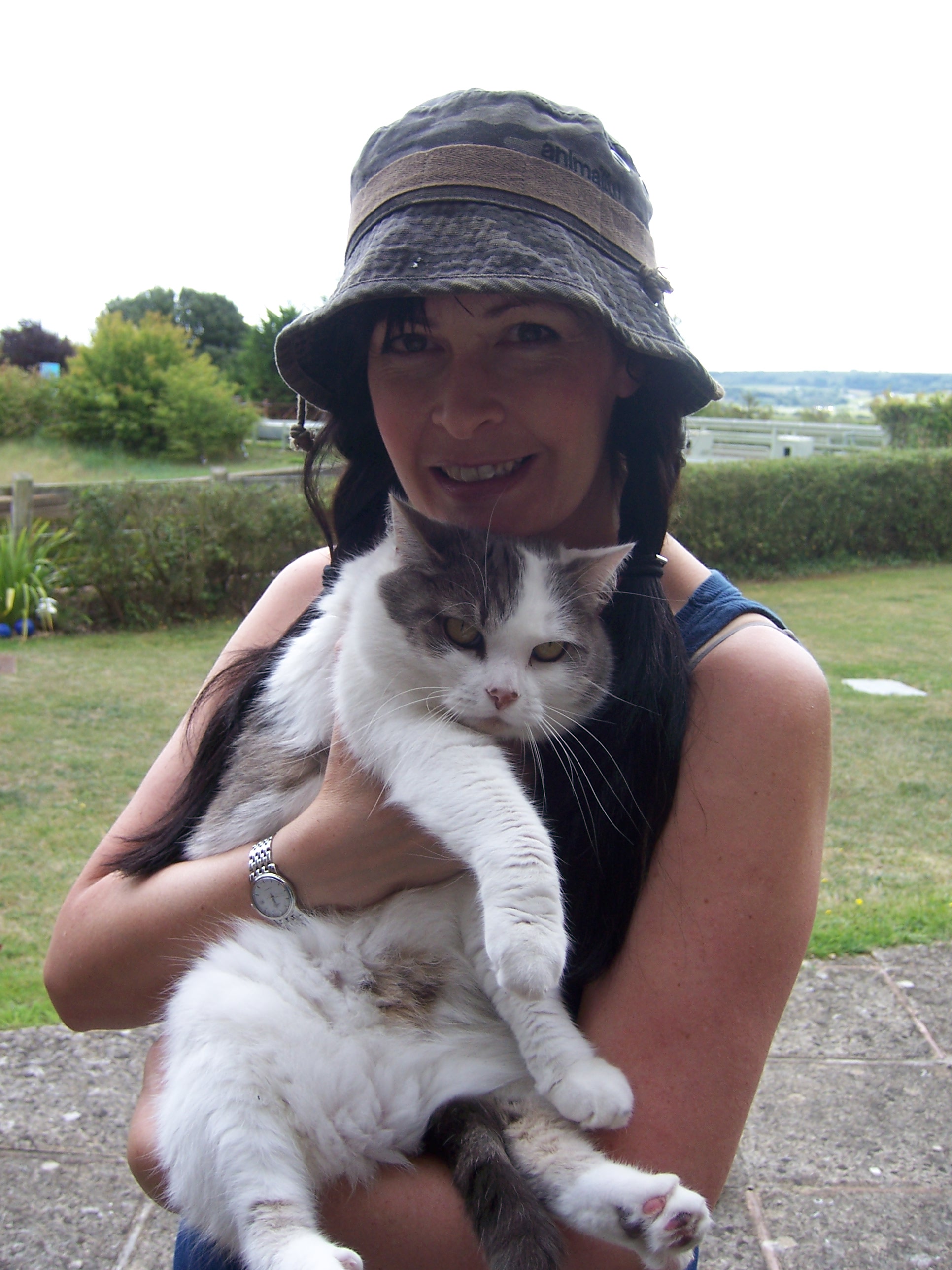 Grace Elliot leads a double life as a veterinarian by day and author of historical romance by night. Grace lives near London and is passionate about history, romance and cats! She is housekeeping staff to five cats, two sons, one husband and a bearded dragon (not necessarily listed in order of importance). "Verity's Lie" is Grace's fourth novel.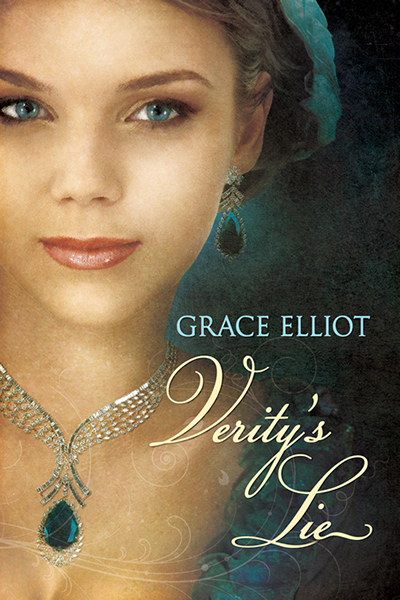 Verity's Lie – Synopsis:
Charles Huntley, Lord Ryevale, infamous rogue…and government agent.
In unsettled times, with England at war with France, Ryevale is assigned to covertly protect a politician's daughter, Miss Verity Verrinder. To keep Verity under his watchful eye, Ryevale plots a campaign of seduction that no woman can resist– except it seems, Miss Verrinder. In order to gain her trust Ryevale enters Verity's world of charity meetings and bookshops…where the unexpected happens and he falls in love with his charge.
When Lord Ryevale turns his bone-melting charms on her, Verity questions his lordship's motivation. But with her controlling father abroad, Verity wishes to explore London and reluctantly accepts Ryevale's companionship. As the compelling attraction between them strengthens, Verity is shattered to learn her instincts are correct after all – and Ryevale is not what he seems. So if Lord Ryevale can lie, so can she… with disastrous consequences.
BUY LINKS
Amazon .com http://amzn.to/13CxrN1
Amazon.uk http://amzn.to/12aEqI6
Links:
Subscribe to Grace's quarterly newsletter here: http://bit.ly/V7T6Jd
Grace's blog 'Fall in Love With History' http://graceelliot-author.blogspot.com
Website: http://graceelliot.wix.com/grace-elliot
Grace on Twitter: @Grace_Elliot
Grace's author page on Amazon: http://www.amazon.com/Grace-Elliot/e/B004DP2NSU/ref=ntt_athr_dp_pel_1
Facebook: http://www.facebook.com/pages/Grace-Elliot/173092742739684?v=wall&sk=wall