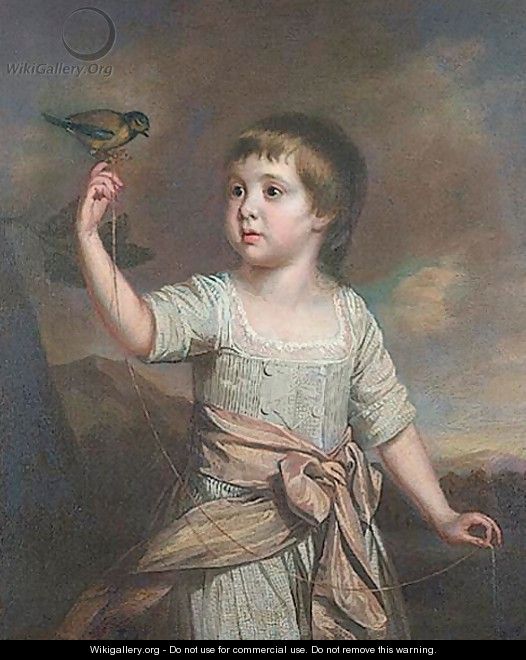 Maria Molyneux, Countess of Sefton, was one of the famed Lady Patronesses of Almack's Assembly Rooms.   She is mentioned frequently in Regency novels, such as REGENCY BUCK by Georgette Heyer.    Lady Sefton had the reputation of being extremely good-natured; in fact, there is speculation that she was happy to leave to the question of blackballing of potential members, or revoking the vouchers of erring members, to the other patronesses.  (Harriet Cavendish supposedly disagreed with this assessment, but seemed to be in the minority.)  However, outside of her position as Almack's patroness and Lord Sefton's wife, very little is known about her personally.
          Born Maria Margaret Craven, she was the daughter of William Craven, 6th Baron Graven and Hampsted Marshall and Lady Elizabeth Berkley on April 26, 1769.  Her mother was the daughter of the 4th Earl of Berkley.    Lady Elizabeth was an author and playwright known for her travelogues, and a socialite with a reputation for multiple affairs.  Baron Craven was also reputed to have had numerous affairs.  Maria's father separated from her mother in 1780; there after, Lady Elizabeth lived in France.   The Baron passed away Sept. 27, 1791 and Lady Elizabeth remarried Oct. 13, 1791 to the Markgraf von Brandenburg-Ansbach, with whom she had supposedly had a relationship for several years.    There is no indication of Maria having a relationship or even contact with her mother after her parents separated.
           On Jan. 1, 1792, Maria married William Philip Molyneux, Viscount Sefton, the son of Charles William Molyneux, 1st Earl of Sefton, and Isabella Stanhope (daughter of the 2nd Earl of Harrington).   Available information indicates that William's mother Isabella is the Lady Molyneux who was one of the fourteen original founders of the Almack's Assembly Rooms about 1765 with Mrs. Fitzroy, Lady Pembroke, Miss Pelham, Miss Lloyd and Mrs. Meynell (all mentioned by Horace Walpole in 1770 when he wrote about "The Female Coterie" – Maria Craven was only about a year old at that time).   It is also probable that Isabella was the Lady Sefton who sponsored Maria Fitzherbert into society (Mrs. Fitzherbert may have had a connection with Charles and Isabella's family).   William succeeded his father in 1795 becoming the 2nd Earl of Sefton.    
          Known as  "Lord Dashalong",  Lord Sefton, a friend of the Prince Regent, was passionate about racing, hunting, coursing and steeple chasing,  was a founder of the Four-Horse (also referred to as the Four-in-Hand Club).  He was Master of the Quorn Hunt from 1800-1805.  He was a member of White's Club. Lord Sefton was known as a liberal and a reformer, and was a Member of Parliament, in the House of Commons (his title was Irish and did not automatically give him a seat in the House of Lords until 1831 when he was created Baron Sefton of Croxteth in the Peerage of the United Kingdom by William IV).   
          With his political career, as well as his club and sporting interests, Lord Sefton was obviously very active in society and was known for a magnificent mode of living and hospitality, which included setting an excellent table.   He and Maria had at least five children, possibly more.  Maria was a patroness of Almack's by 1812, at which point she was one of the older (if not the oldest) of the group.  With the reputations of her parents and the scandal of their separation and her mother's remarriage, it seems probable that Maria had high standards of behavior, if only to preserve her own reputation and standing.  Obviously, Maria would have been  very busy managing their homes and acting  hostess in Arlington Street in London, Stokes Farm in Berkshire and Croxteth Hall near Liverpool, in addition to her social life and her responsibilities as a Patroness of Almack's.  However, I have yet to find any indication of letters or diaries or other information detailing her daily activities, personal feelings or friendships.  Clearly, she was also very discreet.
          Lord Sefton had a falling out with the Prince Regent, when he protested the Prince of Wales effort to cause the exclusion of the Princes of Wales from the White's Club ball in 1814, which was ultimately cancelled.  Although this greatly reduced his involvement with court activities (and possibly, by extension, Lady Sefton's presence at court as well, to some degree), his political and sporting activities continued.  There is no indication of any reduction of Lady Sefton's activities in Society in general, although it appears that the responsibilities of the Lady Patronesses declined around 1824.  He was restored to favor at court by William IV, who was reported to be an admirer of Lady Sefton.
          Lord Sefton died Nov. 20, 1838.  He was succeeded by his son with Maria, Charles William Molyneux.    Maria survived him by almost twenty-three years, dying at the age of 81 Jan. 1, 1851.  As of this writing, I have found no information about her life during the period from the death of Lord Sefton until her own death.    It's strange and rather sad to think that so little personal information survives about a woman of so much influence in her time.  Hopefully, more information will surface.
REFERENCES
Hibbert, Christopher.  GEORGE IV The Rebel Who Would Be King.  2007: Palgrave MacMillan, New York.
Murray, Venetia.  AN ELEGANT MADNESS High Society in Regency England.  1999: Penguin Group, New York.
ANGLOCENTRIA. Almack's.  http://anglocentria.com/Almacks.htm
CROXTETH HALL Liverpool online.  http://www.bygonetimes.org.uk/croxteth_hall.htm
Dandysme Blog.  THE EARL OF SEFTON. Posted 2/7/2012 by von Melanie Grundmann.  An obituary taken from THE GENTLEMAN'S MAGAXINE, Dec. 1838, Vol. X.
HISTORICAL AND REGENCY ROMANCE UK blog.  Regency Connections. By Nicola Cornick.Posted 9/7/2009.  http://historicalromanceuk.blogspot.com/2009/12/regency-connections.html
THE HISTORY OF PARLIAMENT ONLINE.  Molyneux, William Philip, 2nd Earl of Sefton [I], of Croxteth Hall, nr. Liverpool, Lancs.  Published in the History of Parliament: The House of Commons 1790-1820, ed. R. Thorne, 1986.  http://www.historyofparliamentonline.org/volume/1790-1820/member/molyneux-william-philip-1772-1838
THE JANE AUSTEN CENTRE website.  The Patronesses of Almack's: The Arbiters of London Respectibility, by Laura Boyle.  Published 7/17/2011.  http://www.janeausten.co.uk/the-patronesses-of-almacks-the-arbiters-of-london-respectibility/
THE PEERAGE ONLINE. Person Page 2080. http://www.thepeerage.com/p2080.htm  [Information about the Hon. Maria Margaret Craven and William Philip Molyneux, 2nd Earl of Sefton]
THE PEERAGE ONLINE.  Person Page 10875. http://www.thepeerage.com/p10875.htm [William Craven, 6th Baron Crafen of Hampsted Marshall and Lady Elizabeth Berkley]
A WEB OF ENGLISH HISTORY.  Sir William Philip Molyneux, 2nd Earl of Sefton (1772-1838).  Dr. Marjory Bloy.  (no date)  http://www.historyhome.co.uk/people/sefton.htm
Wikipedia.   William Molyneux, 2nd Earl of Sefton.  http://en.wikipedia.org/wiki/William_Molyneux,_2nd_Earl_of_Sefton
Wikipedia.  Almack's.  http://en.wikipedia.org/wiki/Almack's
  (If you would like to read about another Patroness, please check out an earlier post on the English Historical Fiction Authors blog about Princess Lieven!  http://englishhistoryauthors.blogspot.com/2011/11/dorothea-christorovna-benckendorff.html )
Image:  http://www.wikigallery.org/wiki/painting_373952/Thomas-Beach/Portrait-Of-Miss-Maria-Margaret-Craven