It's Christmas time, and books make fantastic gifts. Author Felicia Rogers is offering a holiday special of her novel, The Ruse, just in time for a last-minute gift, or for one's self if looking for something to read when it's too wintery outside! Felicia is a new author for me as well-we're all for a treat! She has provided the post below-take a look…
The Ruse, Andrews Brothers, Book One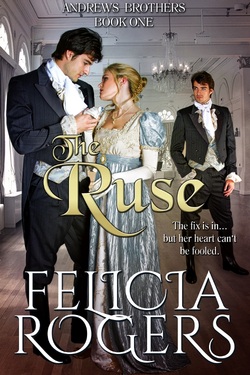 The fix is in…but her heart can't be fooled.
Luke Andrews, Baron of Stockport, is in trouble. He needs a wealthy bride to secure future funds for his financially shaky estate, but the belle of the London season is a spoiled terror with an arrogant father. They'd try the nerves of a saint and Luke can't quite bring himself to make an offer he knows he'd regret.
Meanwhile, Luke's half-brother Chadwick never could resist a good game of Faro, or anything else, for that matter. With the baron away, Chadwick will play — gambling the estate's remaining funds into oblivion. He needs to devise his own scheme to replace the money he's lost, before his brother returns.
In Stockport village, Brigitta Blackburn doesn't have two sticks to rub together — literally. With the estate in financial distress and rents high, food and wood are scarce. When she sneaks onto the baron's land to steal some firewood, she's caught, hauled before the play-acting "baron," Chadwick, and offered a solution to her plight… and his.
But Chadwick's ruse embroils them all. How can Brigitta accept what she thinks to be true, when she really yearns to follow her heart?
–a traditional Regency novel
Buy it Now:
Amazon: http://tinyurl.com/lkdksyd
Amazon UK: http://tinyurl.com/lt2lwkn
On sale for 0.99 from Dec. 24th to Dec. 29th!!!
****
See what one reader said about The Ruse:
By Kivey on Amazon: I honestly LOVED this book it was so awesome. Luke is a hunk and his brother well you all will see if you read it :). This book was very suspenseful. I was on the edge of my seat and laughed the heroine is just sooooo spunky. She is truly one heroine I wouldn't want to mess with.

Excerpt:
Fountains bubbled and birds landed in the baths. Luke took the long trail and walked by the fishing pond and hunting grounds. A rock jutted out from the mountain and Luke paused, blocking the sun from his face.
From his high perch, the ruins of Stockport Castle tumbled across the green below. He remembered being a lad and staring at the ruins while holding tightly to his father's hand. His father's vivid descriptions had almost made him feel as if he'd walked through the hallowed halls that lay destroyed.
Reality of how things that stood the test of time could still plunge into nothingness gnawed at his innards and he wished his father was around to offer wisdom.
Downhearted, he shoved his hands in his pockets and turned. Upon approaching the manse, he knitted his brows. A line of people gathered. Behind them, carriages lined the road almost as far away as the village.
He strode toward the crowd and joined them. Raindrops fell and he tugged his top hat lower. The throng groaned and waved umbrellas aloft. Before them the manse doors parted and they entered the east wing of the estate.
Tourists dressed in fine frocks with plumed hats filed into the main room, staring avidly about at his home. An individual Luke had never seen acted as a guide, lifting his hands and pointing at one side of the curved staircase. There a woman of refined grace descended.
The guide announced, "Introducing Baroness Stockport, Brigitta Andrews."
Luke blinked rapidly as the woman turned, smiled, and waved. The crowd returned her actions. She continued to descend until she reached the landing, where she stopped.
From the opposite set of stairs, his half-brother Chadwick, dressed in regal attire, descended. The red coat emphasized his broad shoulders, which he held back. His face scrunched, he didn't look at the crowd, but instead focused a look filled with unrequited hatred toward the woman on the landing.
The guide lifted his hand toward Chadwick and said, "Introducing the Baron of Stockport."
Luke covered his gasp and huddled deeper into his coat. What is the meaning of this?
Before any further thoughts could drift through Luke's mind, Chadwick stopped in the middle of the stairs and shouted, "And just what do you think you're wearing?"
The woman bristled. "I'm wearing the yellow today, my lord."
"The yellow? Blah. I've told you I detest yellow. Get thee upstairs and change this instant." He pointed his finger above and the lady cocked a brow and glared.
"You will not tell me what to do! I'm the baroness and I can do as I please. If I want to wear yellow, then I shall wear yellow!"
Chadwick didn't waver and Brigitta hitched her skirts and ran upstairs. Chadwick faced the crowd and apologized for his wife's behavior before casually turning on his heel and leaving himself.
Shocked, Luke blindly followed the crowd. The guide led them through the entire east wing. They studied the wall of family portraits, swooned over the ancient family heirlooms, and ended with a riding tour of the grounds.
With each new sight his ire increased. While he'd been strangled initially by feelings of cold, blind rage, the trip on horseback through the grounds cooled his temper and now he was naught but confused.
The event ended and the visitors left in their carriages. Discreetly, Luke sneaked into the house through a downstairs window and raced on tiptoe to his chambers. He sat at a desk and pondered until his head ached. Finally, he pulled the servant's rope that led directly to his personal valet's room. He paced, his mind jumbled with nonsensical thoughts. The door opened and he blurted, "Jarvis, I have a problem."
The valet entered and closed the door. A blank stare covered his face as he blurted, "My lord, we weren't expecting you. Welcome home."
"There is something foul at play here."
Jarvis squinted, lifted his nose, and sniffed.
"Not an odor, Jarvis."
He lowered his chin. "Excuse me, your lordship, but I fail to understand your meaning."
Without pretense, Luke said, "In the east wing, Chadwick is pretending to be me!"
"Are you sure?" asked Jarvis, his voice lending to a squeak.
He rounded on the servant. "Yes, I'm sure! They called his name as the Baron of Stockport and last I checked that was me!"
Buy The Ruse on Amazon: http://tinyurl.com/lkdksyd
Buy The Ruse on Amazon UK: http://tinyurl.com/lt2lwkn
ROMANCE AUTHOR
Felicia Rogers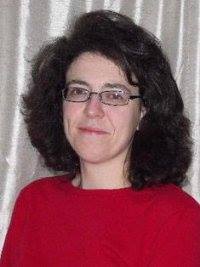 Felicia Rogers is an author of eight novels and two novellas. When she's not writing, Felicia volunteers with the Girl Scouts of America, teaches at a local homeschooling group, hikes, and spends time with her family.
To find out more information about Felicia Rogers use the links below. She loves hearing from readers.
Website: http://www.feliciarogersauthor.weebly.com
Facebook: https://www.facebook.com/FeliciaRogersAuthor
Email: feliciarogersauthor@yahoo.com
Goodreads: http://www.goodreads.com/FeliciaRogers