It is my pleasure to welcome author Prue Batten to the blog today. The official release date for Michael, the third book in The Triptych Chronicle, is July 20th. Today, Prue is going to tell us about the journey to this point and a bit about Michael. Enjoy!
Journeys…
As I approach the launch of the last in my historical fiction trilogy, I'm beset with quite a few emotions.
The Triptych Chronicle was a step into a world that I've become comfortable with. Like pulling on that favourite sweater – the soft one that cossets on a cold day but which itches if the sun burns too brightly. So this one has itched to be written and then when I sink into the writing, feels as if I'm wrapped in cashmere.
In my own reading experience, and with the exception of Dorothy Dunnett, I had read very few historical fiction books that dealt with the insidious world of trade. Even less were there fictional writings of twelfth century trade which I felt might have been the precursor to vibrant Renaissance trade.
I wanted to read about it, so I wrote it!
Learning about trade has been a journey into gilded danger, excitement and venality as each of the various commodities traded from east to west were sourced. It seems that in writing the trilogy, I was constantly surrounded by fragrance, by glitter or by extremes of colour. It required a far stronger person than I not to be overawed by the beautiful aromas of spices, by the sheer drama of polished and sparkling gems and whispering silks or by the minerals from which the powders and pigments were acquired for great western church art. Nor could I remain unswayed by the mystery of farflung places that were the sources of these breathtaking goods. And then there were the truly fabulous commodities – in the case of my novels, the dye called Tyrian purple and a finely woven silk cloth called byssus.
So, as I approach the release – it's not like clicking off e-Bay or Facebook. It's saying farewell to an intrepid group of men and women who dealt in merchandise, and who tried to survive the jealousies and danger that were aroused as they strode through the streets of Constantinople and Lyon.
Which brings me to the greatest emotion of all.
Loss.
For four years now, the people I write about have been my closest friends and allies. I know every mark on their bodies, every expression, every thought. It will be infinitely sad to say goodbye. The one good thing is that I have only to pick a title off the shelf or open my Kindle to be back amongst them. A relief then, that they're not gone for good. (Those that survived, that is. Sadly, some of the best did not…)
It's also a time when I farewell the twelfth century about which I will have written six novels and a number of short stories. Sometimes I wonder if it will be a permanent goodbye or just a gentle 'see you later'. Whatever the case, it's a kind of tectonic culture shift. For me, writing about the age was like writing about an early-onset Renaissance. Never let it be said that the Middle Ages weren't filled with their own beauty and inventiveness.
And of course, there are the range of personal emotions experienced during the four years of writing. My husband's battle with cancer (which he won), a child marrying, another child moving to the other end of the island, a favourite dog (one of my muses) passing away and the first grandchild on the cusp of being born. Also joining with like minds in an environmental fight against salmon farms. Then my own personal battle with an obscure vestibular condition. The astonishing thing is how each of these events has imbued itself through the novels in the ranges of emotions my characters feel. They are very empathic, those people from within the trading house of Gisborne-ben Simon – the kind one would always hope to have in one's circle.
Writing a series of novels is a journey. Not just for the characters but for the writer. One comes out the other side older, wiser and all things being equal, ready to do it all again. But then let's face it – the simple art of writing is a journey into the cryptic corners of rather a lot of souls.
Never let it be said otherwise…
Prue Batten's The Triptych Chronicle (Tobias, Guillaume, Michael) has won awards, most recently, a Chaucer Award from Chanticleer for Guillaume. Each book is a standalone but each of the characters after whom the books are titled are known to each other, and each story is linked by a thread of a revenge, and each of the men feature in the other's stories.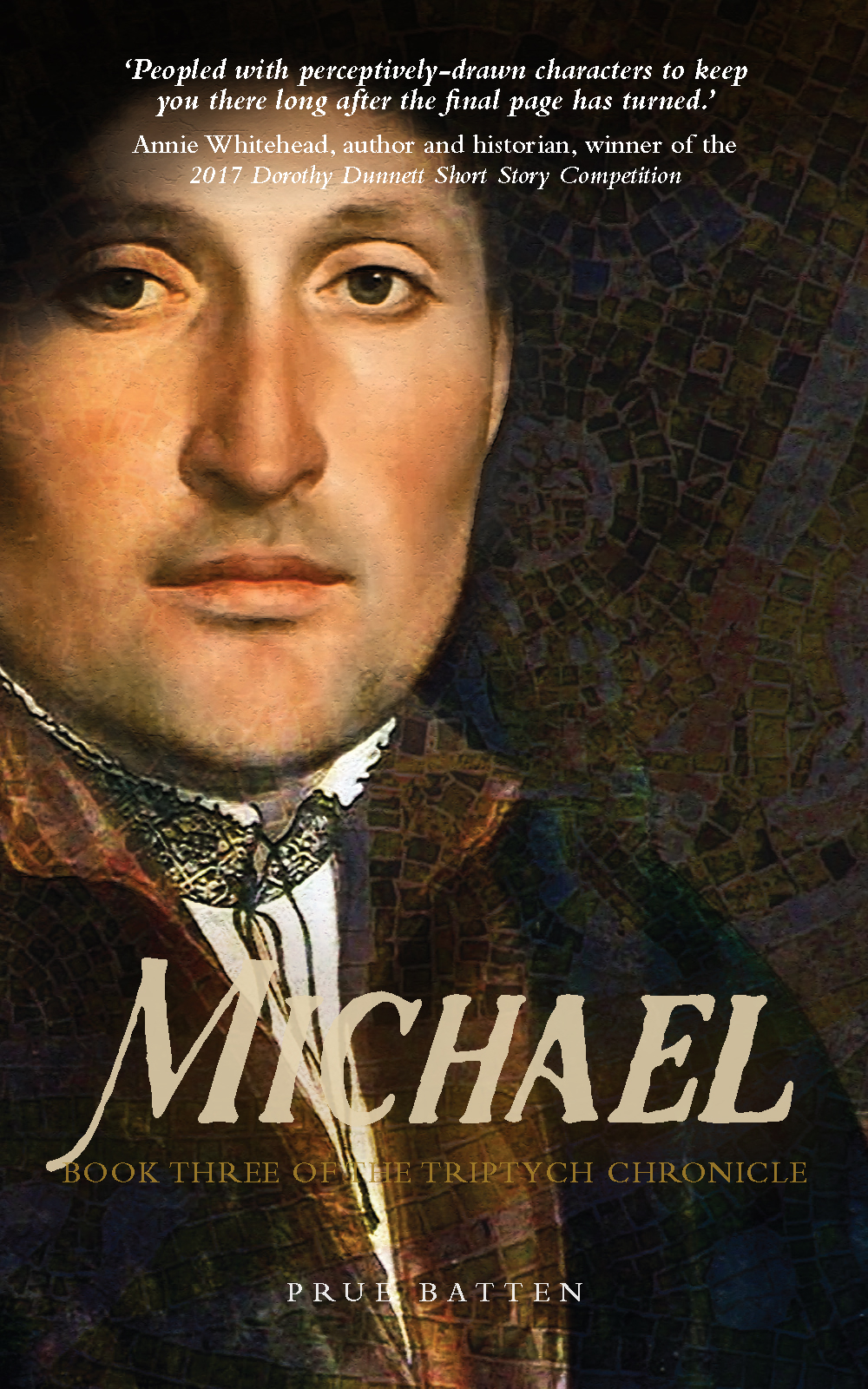 To find out more about Prue and her work, see below:
Website: Here
Facebook: Here
Pinterest: Here
Amazon: Here