As noted before, I really enjoy old cookbooks. The information they contain tell us so much about life in earlier times. Not only do they tell us what people ate and how their food was prepared, they contain information about medicine, sanitary concerns and other things. For some time, I have wanted a copy of that stalwart of the Victorian home, MRS BEETON'S BOOK OF HOUSEHOLD MANAGEMENT. Finally, a facsimile of the original volume published in 1861 surfaced. Not only does it contain the original material, including illustrations, the print matter is enlarged so it is easier for me to read. (I am increasingly appreciative of larger print.) It is a rather bulky volume, but a delight to read none the less.
One of the things I particularly like is Mrs. Beeton's list of foods in their seasons. She divided them into categories (Fish, Meat, Poultry, Game, Vegetables and Fruit), then discussed what is available each month, including commentary on possible quality. For example, in February, she listed several fish that were still available for purchase in February but were not as good as they were in January, as well as other fish that were not subject to that concern. While other books have similar information, Mrs. Beeton's seems to be more detailed. This kind of information can bring a story to life in many ways, ranging from a dialogue between characters about what to buy to a detail about a character's favorite dish. If nothing else, it gives an author confidence about the accuracy of the details in the story.
The illustrations are black and white drawings, and the use of the illustrations is interesting as well. Mrs. Beeton included drawings of the ingredients before cooking (herbs, chickens, trees, etc.) as well as pictures of the final dishes.
For example, in the section of recipes for chicken, she included pictures and details regarding different varieties of chicken. See below: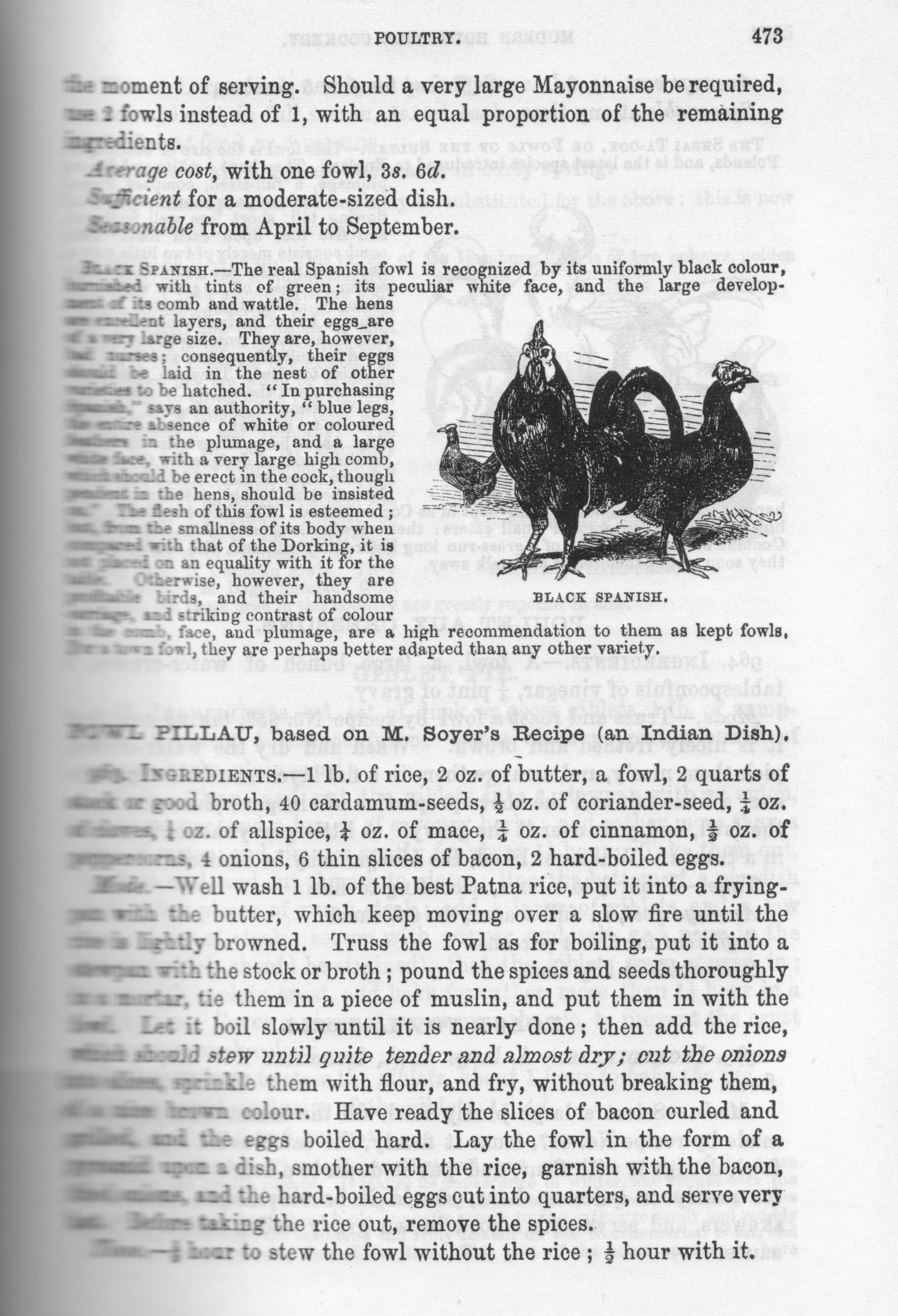 I'm sure this was intended as a help to the ladies of the house, but it's very interesting to the modern reader as well.
This is a useful and fascinating addition to my library. I look forward to using it.
Source:
Beeon, Mrs. Isabela. MRS BEETON'S BOOK OF HOUSEHOLD MANAGEMENT. Originally published in 1859-61 in monthly supplements to S. O. Beeton's The Englishwoman's Domestic Magazine. First published by S. O. Beeton in 1861 as one volume entitled THE BOOK OF HOUSEHOLD MANAGEMENT. Enlargement: London: Chancellor Preess, 1982, 1984, 1985, 1986, 1987.
Illustrations are scanned from my personal copy.