On Friday, June 28, my friend Prue Batten released a new book. This book, PASSAGE, is a departure for her: this one is contemporary fiction. A gifted writer, she is already well-known for her historical fiction series, THE TRIPTYCH CHRONICLES (3 volumes), and THE GISBOURNE SAGA (3 volumes), as well as her wonderful fantasy series THE CHRONICLES OF EIRIE (4 volumes), and a delightful children's book WOMBAT. PASSAGE is already receiving acclaim. Today, she is visiting my blog to talk about what inspired this new direction.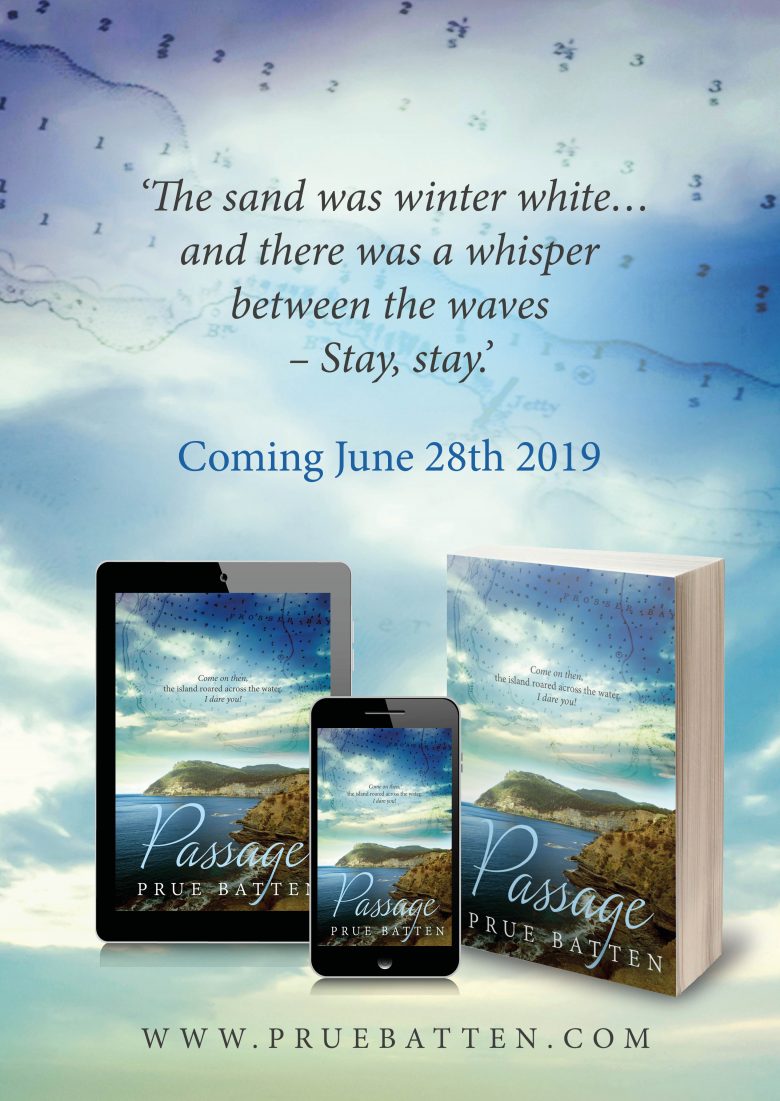 The Inspiration for Passage by Prue Batten
I never intended to write a contemporary fiction.
Ever.
But it is a genre I've always enjoyed reading – authors of the calibre of Rosamunde Pilcher and Alexandra Raife in my earlier days and then Cathy Kelly, Joanne Harris, Maggie Christensen, Joanna Trollope, Jan Ruth, Maeve Binchy and others more recently.
The attraction of the genre is the way it deals with the human condition – no writer shies away from the tough or the tender.
So what was the motivation for me? Well, the oddest little thing really…
My last historical fiction, Michael, had been released and I was taking some time out, re-reading Winter Solstice by Rosamunde Pilcher. In awe of her atmospheric and descriptive writing, I contrived a paragraph about a woman sitting in the sun, trying to give it the Pilcher style. Subsequently I copied and pasted it to my Facebook wall – just for fun.
But then, Juliet Marillier, globally loved writer of myth-based fantasy and also a fan of Rosamunde Pilcher, challenged me to write a contemporary fiction. More particularly, one with a woman in her later years as the protagonist.
I didn't even think twice (Probably a bad idea. I've always been too impulsive.) and thought why not?
So Passage, in the first instance without a title, was born.
My protagonist became a woman on the cusp of her seventies who faces the worst moment of her life when her adored husband of fifty years has a traumatic farm accident. As the blurb indicates, Annie loses Alex and Passage becomes her journey from grievous loss to a gentler existence.
I was determined that it should not be a depressing novel and wanted there to be wry humour and comfort in the reading of this story and so Annie has a crazy little Jack Russell as her companion, along with a dry-witted and kind French woman who is completely Yang to Annie's Yin.
In addition, Annie converses with her husband. Is she mad? Is he a spirit? Heavens' knows.
But it comforts Annie and has the approval of her psychologist.
Writing the novel has enabled me to understand grief much more. I now realise that it has its own agenda, its own timeframe and that it can be bridged and that there can be life on the other side.
My dearest wish is that folk will travel with Annie with affection and enjoyment, knowing that grief has many forms and many faces but that all are ultimately bearable…
Thank you, Lauren for inviting me today.
If you would like to read Passage, here is the link. mybook.to/Passage
And if you want to find out more about Prue:
www.pruebatten.com
www.facebook.com/Prue.Batten.writer
www.pinterest.dk/pruebatten
www.instagram.com/pruebatten/