Welcome to the Tasty Summer Reads Blog Hop!
It is my great pleasure to introduce the lovely and talented author Lucinda Brant, who will be posting her Tasty Summer Reads blog as my guest today. Lucinda writes Georgian historical romances with wit and adventure, and crimances (crime with lashings of romance). Her latest release SALT REDUX is the sequel to the internationally best selling SALT BRIDE, and is a 2013 Readers' Favorite Book Awards Finalist. You can read more about Lucinda on her website www.lucindabrant.com And now for Lucinda…
Welcome to the Tasty Summer Reads Blog Hop!
New release:
SALT REDUX: Sequel to SALT BRIDE
Jane and Salt—four years of Happily Ever After
Sir Antony Templestowe—four years of Exile
Lady Caroline—four years of Heartache
Diana St. John—four years plotting Revenge
The time has come…
How does a brother cope with life knowing his sister is a murderess? How can a nobleman have the life he has always wanted when a lurking evil consumes his thoughts and haunts his dreams? What will it take for good to triumph over evil?
For readers who enjoyed Salt Bride, the story continues…
2013 Readers' Favorite Book Awards Finalist
http://lucindabrant.com/salt-redux.php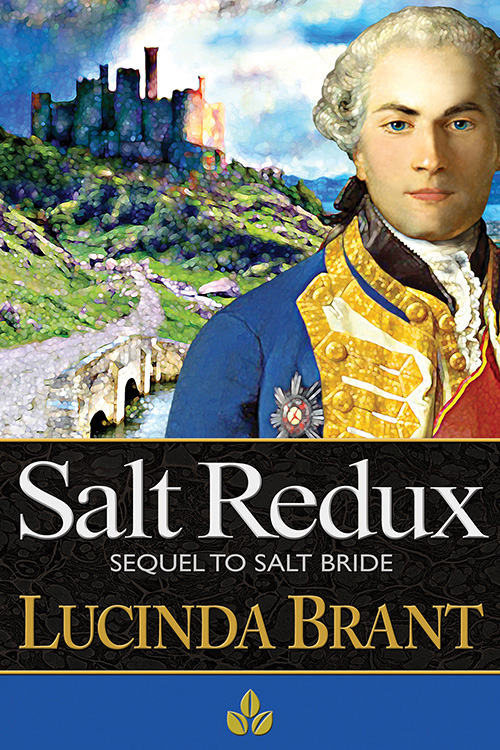 Now for the Random Tasty Questions:
1) When writing are you a snacker? If so sweet or salty?
I drink coffee; lots of it! Making a cup of coffee gets me up out from in front of the computer screen. I have a Nespresso machine. I take my coffee black with one teaspoon of raw sugar. I usually just drink the coffee but occasionally I will indulge in a snack, usually a piece of the latest cake I've made – some faves are Zucchini and Carrot cake, Pear, Raspberry and Pistachio bread, Orange, Almond and Coconut cake.
2) Are you an outliner or someone who writes by the seat of their pants?
I use an A5 20 ring binder full of notes for each WIP. I get dressed for work each day in my writing PJs. I buy my "writing" PJs from www.peteralexander.com.au which have funky designs for summer and winter. Ah, the life of the full time writer.

3) When cooking, do you follow a recipe or do you wing it?
I've been cooking now for a long time, so don't follow recipes but my taste buds! But I am new to making cakes. My daughter, who has moved out of home, was the cupcake and sweets maker. So I will follow a recipe when making a cake or dessert.
4) What is next for you after this book?
I'm currently writing book 4 in my Roxton series, DAIR DEVIL, which begins on the night before book 3 ends. It's about a minor character in book 3 Alisdair (Dair) Fitzstuart, heir to the earl of Strathsay, and Aurora (Rory) Talbot, granddaughter of England's spymaster general. It should hit the cyber shelves before Christmas.
5) Last question…on a level of one being slightly naughty and ten being whoo hoo steamy, how would you rate your book?
My books have elements of naughty, but if you mean the mechanics of sex, then no. But there is enough sexual tension to get all hot and bothered, that's for sure!
And now for the really tasty part: the recipe!
Brussels Sprouts, Cranberry and Almond Warm Summer Salad
(sorry, but I don't use precise measurements – but this is easy to do!)
About 20 Brussels sprouts topped and chopped in half
a quarter of cabbage (any kind) chopped
a big handful of dried ready to eat cranberries
a big handful of slivered almonds
Rice Bran oil to mix
Steam Brussels sprouts in microwave until tender but firm (but not mushy)
Combine all ingredients in a bowl and toss to coat with oil
Place in an ovenproof dish and heat in a moderate oven until Brussels sprouts have caramelized
Serve as an accompaniment to lamb, chicken or beef.
I have tagged author Prue Batten to carry on the hop. Prue Batten writes Historical Fiction and Fantasy. Her fantasy novel A Thousand Glass Flowers received a silver medallion in the 2012 Readers' Favorite Book Awards. Her latest book is the second in her Gisborne saga Gisborne: Book of Knights.
I'll now have you hop on over to Prue Batten's blog! http://pruebatten.wordpress.com/
Other Tasty Summer Reads Blog Hop participants are:
Christy English http://www.christyenglish.com/2013/07/17/tasty-summer-reads-blog-hop/
Anna Belfrage http://www.juditharnoppnovelist.blogspot.com/ or http://www.juditharnopp.com/
Diana Russo Morin http://www.donnarussomorin.com/index.html
Nancy Goodman http://rakesroguesandromance.com/2013/07/11/welcome-to-the-tasty-summer-reads-blog-hop/
Lauren Gilbert http://laurengilbertheyerwood.wordpress.com/2013/07/19/tasty-summer-reads-blog-hop