I have always had a fondness for china.  It just FEELS good when used.  Somehow food looks prettier on a porcelain plate, and tea definitely tastes better out of a bone china mug or cup.  However, I have not actually purchased any for quite some time.  Recently, the passion reared its head and the urge to buy was irresistible.  Even more peculiar, none of these recent purchases go with my existing sets.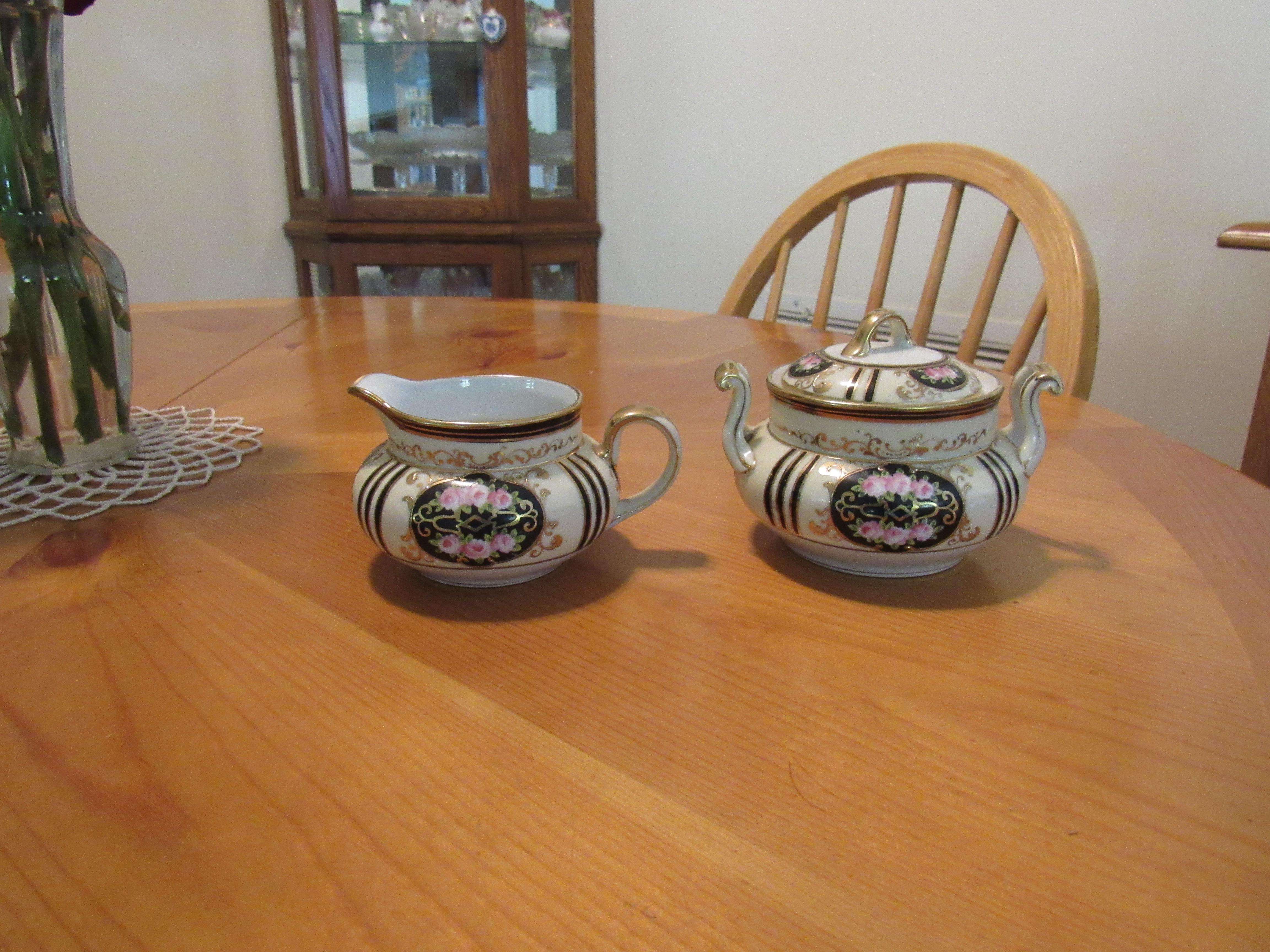 I fell in love with this Nippon hand-painted cream and sugar set.  It has a Morimura mark and is definitely hand painted.  The tag indicated it was made between the 1890's and about 1920's.  I checked on line, and did not find an exact match for this pattern, but did find some similar that were all dated to 1911, which feels right.  Cream and sugar sets are so appealing, and can be used in other ways (as well as a useful adjunct for serving tea, with all the different kinds of milks and sweeteners we use these days!).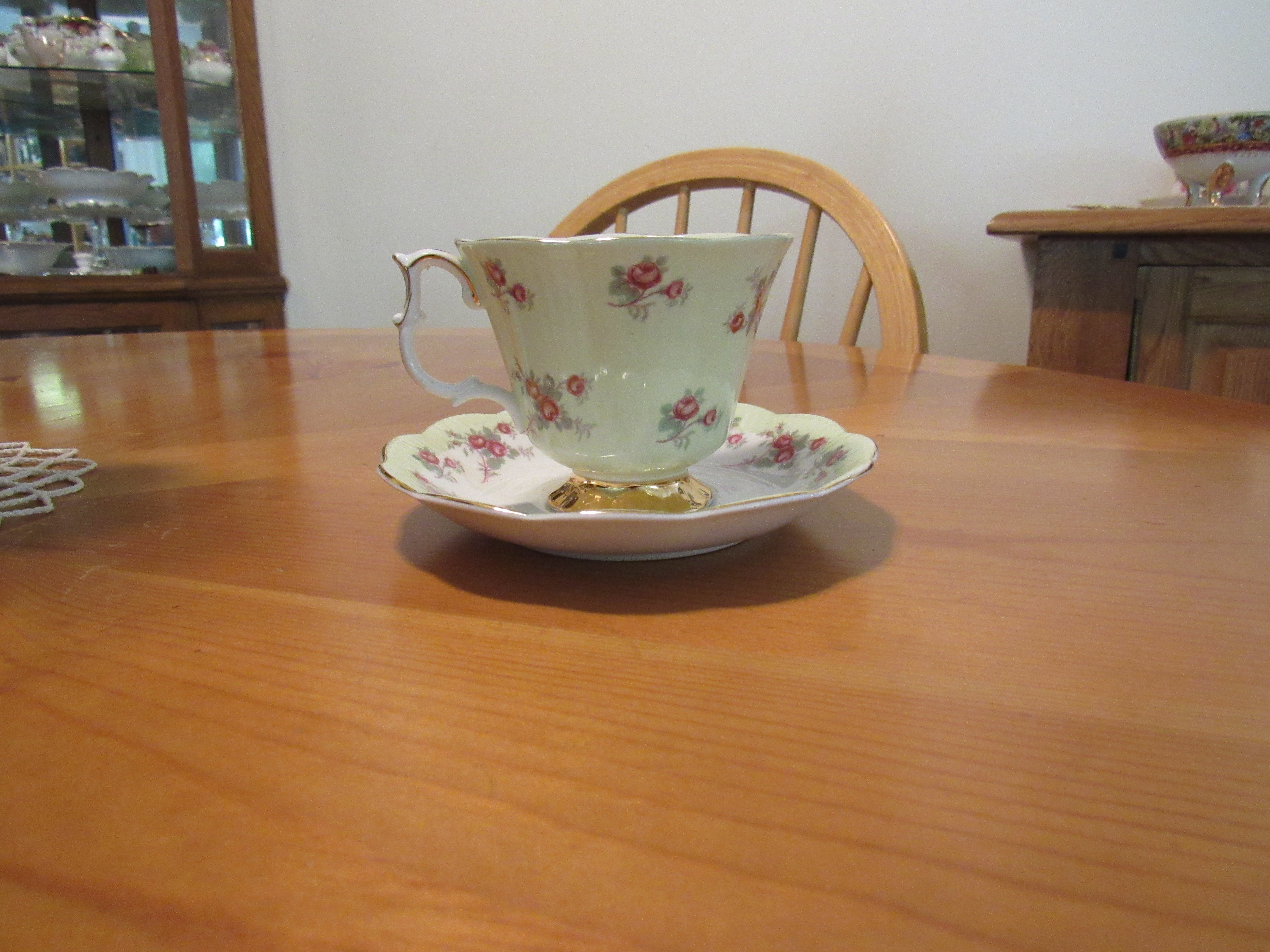 The next item I fell in love with was the cup and saucer in the Royal Albert Symphany Series, with the little roses on the pale green background.  It doesn't match the Old Country Roses tea set, but coordinates nicely; it would definitely work as an extra cup, if needed!  Royal Albert produced variations of this pattern for some time.  It was not hard to find that this particular pattern, the Symphany Series, was produced in the 1970's, and appeared in different colors.  I was very happy with the pale green, and snapped it up.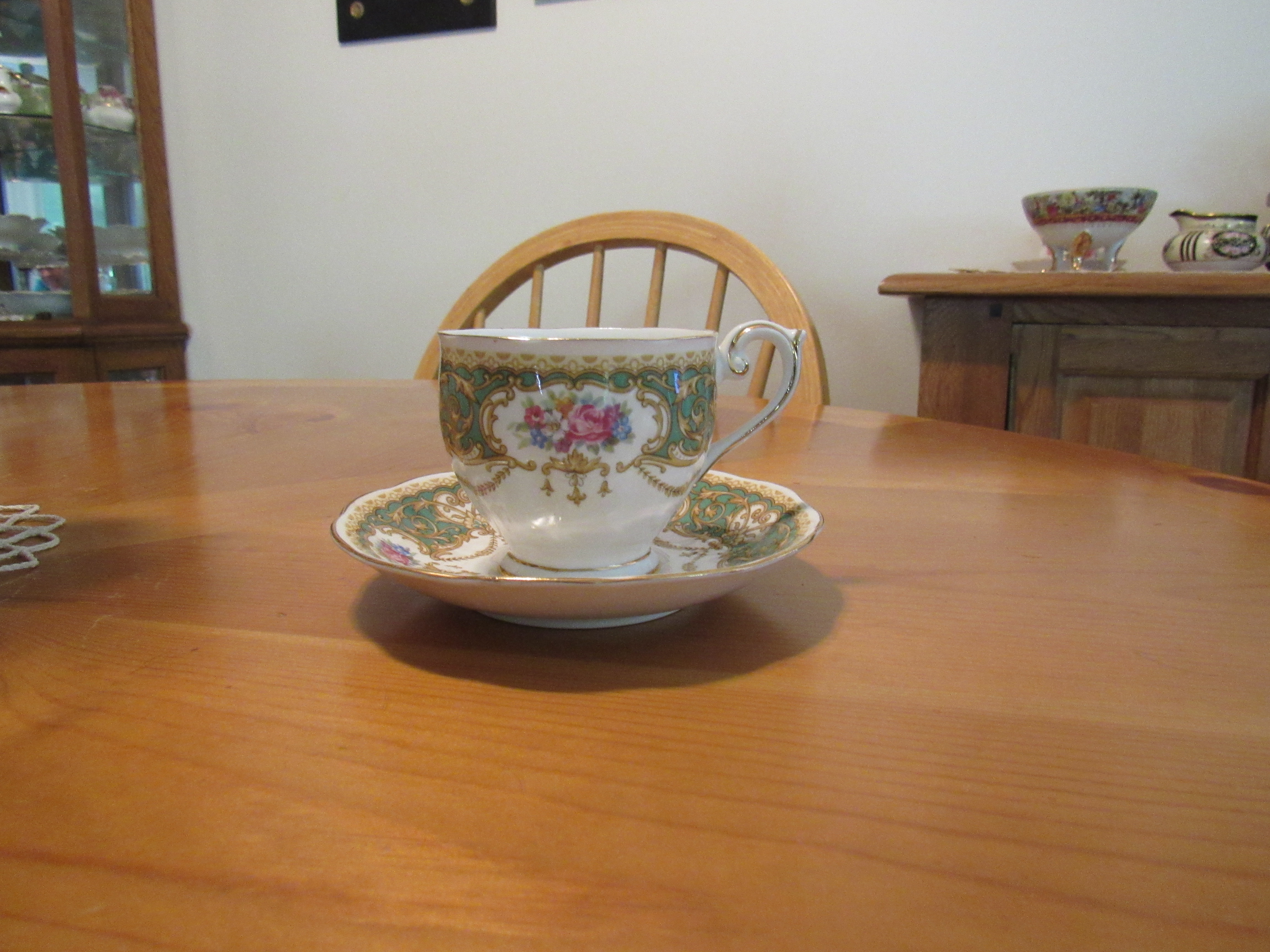 My last find occurred in a delightful shop in Fernandina Beach.  It made me think of one of my favorite novels by Patricia Wentworth, SHE CAME BACK (American title), in which a main character  had "the familiar tea things-Queen Anne silver and bright flowered cups bordered with gold and apple green…." (1)  I was traveling and not expecting to make a purchase, but I could not resist.  It was a total impulse buy.  Again, it doesn't match the tea set but tones with it beautifully in color and style.
None of these purchases were expensive, or intentional.  None are especially old or valuable.  However, all three were very satisfying.  While I doubt if I make any more purchases (at least for a while), I expect to enjoy using these new finds over time.  Unexpected pleasures!
(1) Wentworth, Patricia.  SHE CAME BACK. 1945: J. B. Lippincott Company, Philadelphia and New York.  P. 141.
Photos by me.