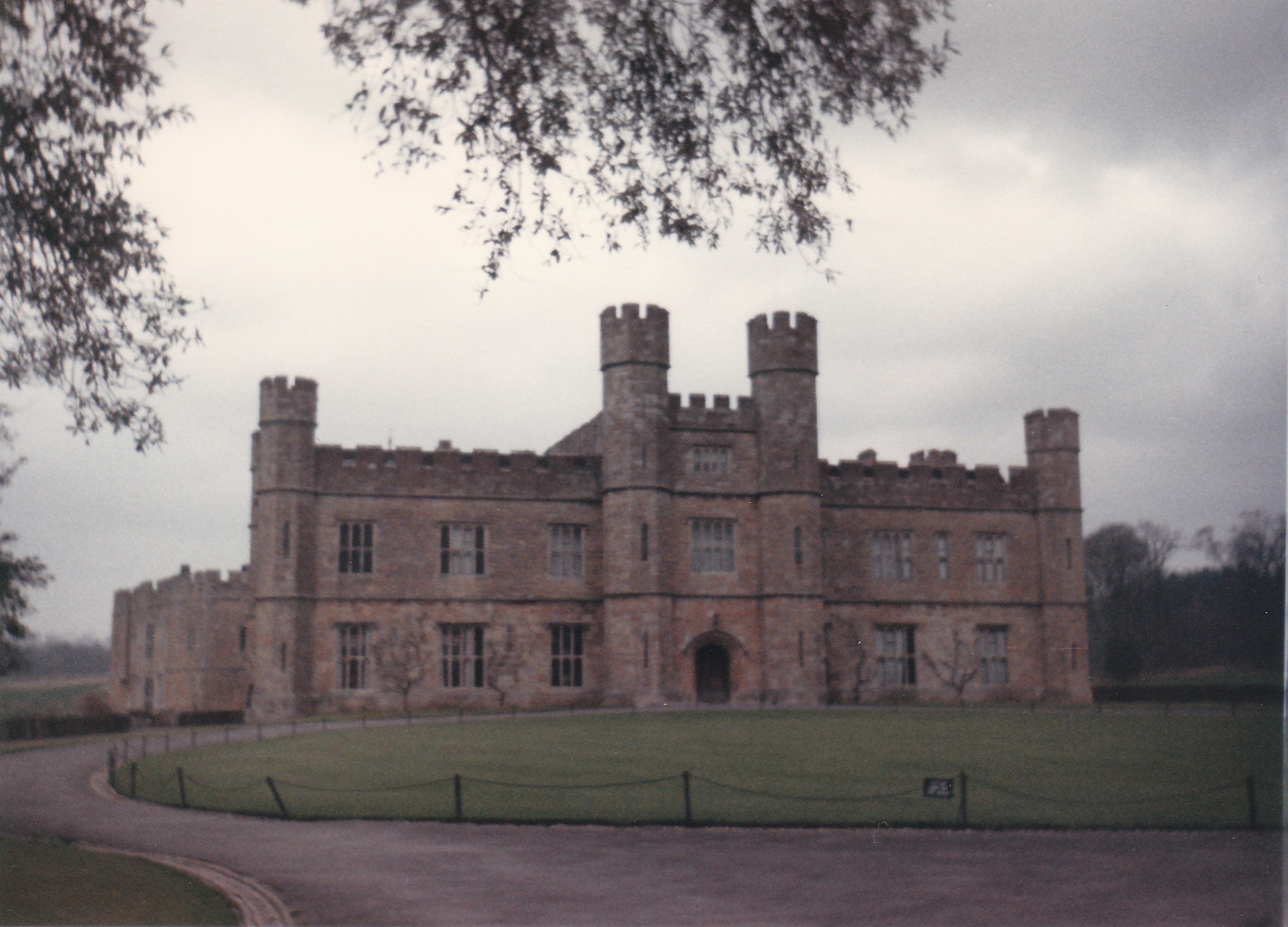 Today has been a grey, rainy day, so I looked at some photo albums.  One was of my first trip to England back in February of 1990.   I was there for two weeks, and had the most amazing time.  The first week was warmer than I expected, in the 50's, and I was dazzled by the green grass, blooming crocuses, and wonderful scenery.  We visited Kew Gardens, Hampton Court (which I loved-I looked for the HA in the ceiling, commemorating Henry VIII's marriage to Anne Boleyn!), the Victoria and Albert, had tea in an incredibly beautiful town called Shere.  However, a highlight of that visit was a trip to Leeds Castle in Kent. 
     Described by Lord Conway as "the loveliest castle in the world," it is truly stunning.  The day we visited, the weather was starting to change (grey and colder) but the grounds were still lovely-as we walked through the park, we saw peacocks, geese, ducks and black swans; snowdrops, bluebells and crocus were blooming.  As we came around, we saw the castle, surrounded by a moat.  It was, in fact, the quintessential castle of my dreams.  We got there about 3:00pm, and the castle was to close at 5:00, so we had to hurry. 
     After the Conquest, William I granted the lands where the Len widened around two small islands to Hamon de Crevecoeur; Hamon's son Robert built the first stone castle on the site of an existing wooden castle, consisting of a keep and gatehouse (part of this survives).  Because the Crevecoeur family sided with Simon de Montfort, they were dispossessed by Henry III in 1265.  The castle was given to Roger de Leyburn.  The Crown bought it back in 1298.  
     The castle has been given to several queens: Edward I gave it to his 2nd wife, Margaret of France; Richard II gave it to his queen, Anne of Bohemia; Henry IV gave it to his 2nd wife, Joan of Navarre (Henry and Joan stayed there to avoid the plague in London).  Henry V gave it to Catherine of Valois; after Henry's death, Catherine supposedly fell in love with and married Owen Tudor there.  In 1519, Henry VIII also altered the royal apartments and brought Catherine of Aragon. 
     The castle has its own chapel in the Gloriette Tower.  Edward I had mass said there daily after the death of Queen Eleanor.  This endowment was continued by Edward II, Richard II, Henry VI and Henry VII.    In 1978, the chapel was reconsecrated and made a Chapel Royal. 
     After leaving the castle, we visited the grotto.  This was built underground, using shells, bones, rocks, etc, to make stairs, pictures and so forth.  There is a seat at the very heart where one can watch the waterfall.  When we left the grotto, the temperature had dropped significantly.  We walked by the aviary, but could see nothing of the birds as it was quite chilly and already starting to get dark.    My only regret?  I was sorry we had not gotten there early enough to linger.  Leeds Castle was one of the highlights of my first visit to England.
Sources:
LEEDS CASTLE, MAIDSTONE, KENT. Tourist pamphlet 1989.
Phillips, Charles.  THE ILLUSTRATED ENCYCLOPEDIA OF ROYAL BRITAIN.  Metro Books: New York, 2009, 2011.
Wikipedia. Leeds Castle. http://en.wikipedia.org/wiki/Leeds_Castle
InfoBritain.  Leeds Castle. http://www.infobritain.co.uk/Leeds_Castle.htm
LeedsCastle. http://www.leeds-castle.com/land.php