From February 10-16, 2013, I am participating in the Hearts Through History Blog Hop.  There are 24 blogs involved, each with a special giveaway in honor of Valentine's Day!   (A list is at the end of this post.)  Our blogs will feature our favorite romantic anecdotes.
One of the most romantic real-life love stories is that of poets Elizabeth Barrett and Robert Browning, a love story that began through poetry and grew in their letters.  During their correspondence after their meeting, before Elizabeth consented to their elopement and marriage, Robert wrote, "…Will it help me to say that once in this Aladdin-cavern I knew I ought to stop for no heaps of jewel-fruit on the trees from the very beginning, but go on to the lamp, the prize, the last and best of all?…."  [Letter dated September 16, 1845]  They finally married secretly on September 12, 1846 at St. Marleybone Church, almost a year to the day.  I am not, in general a fan of poetry, but their correspondence and poems, when read together, are simply exquisite.  To be the prize…   (Sigh!)
My favorite fictional romantic anecdote comes from Jane Austen's Persuasion.  The letter written by Captain Wentworth to Anne Elliot is one of the most beautiful love letters.  "…You pierce my soul.  I am half agony, half hope.  Tell me not that I am too late, that such precious feelings are gone for ever.  I offer myself to you again with a heart even more your own, than when you almost broke it eight years and a half ago…."   The ultimate second-chance-at love story.  Who could possibly resist?
What is your favorite romantic quotation or anecdote? 
It is easy to enter the giveaway; just leave a comment for a chance to win!  The giveaway will close on February 16,  and the winner will be drawn by February 20, 2013.  I will post the name of my winner on this blog.  (Please leave contact information if you want to receive an e-mail!)   The prize will be a signed hardback copy of HEYERWOOD: A Novel, with some special surprise treats to enjoy with it.   This giveaway is open to the US, Canada, UK and Europe.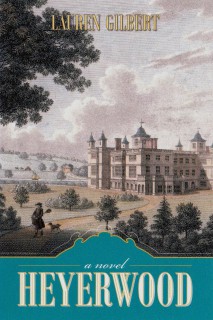 Be sure to enter on each blog for a chance to win the prizes.   Visit each of the blogs featured, so that you won't miss out!  The list of participants follows: