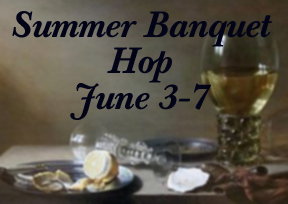 A SUMMER BANQUET: A Regency Picnic
During the summer months, we tend to go for lighter fare, and (whenever possible) to eat outdoors. The picnic was just as popular in England during the Georgian and Regency periods, as illustrated by the picnic at Box HIll in Jane Austen's EMMA. Using Eliza Smith's The Compleat HOUSEWIFE cookbook, we can pull together a delightful summer banquet for outdoors. The bills of fare for May, june, July and August provide plenty of ideas.
For the first course, along with a "Grand Sallad", some "Roasted Losbsters", "Fruit of all Sorts," "Gooseberry Tarts", and "Fish in Jelly" sounds delicious. The second course should include some cold ham and chicken, a dish of "Fish in jelly" and a "Pigeon Pie". For both courses pickled asparagus and pickled slice cucumbers make tasty garnishes. Removes could include a "Potatoe Pie", some strawberries or raspberries, and "Morello Cherry Tarts."
To make a "Pigeon Pie", you start with a two-crust pastry. After that, Mrs. Smith says "Truss and season your pigeons with savory spice, lard them with bacon, stuff them with forc'd mean, and lay them in the pye with the ingredients for savory pyes, with butter, and close the pie." (Savory spices include salt and pepper, nutmeg, and mace. Herbs such as thyme, marjoram, parsley, or savory could also be added, with a shallot or onion.) When the pie is done, pour a Lear into the pie. A Lear is a sauce or gravy. Mrs. Smith instructs "Take claret, gravy, oyster-liquor, two or three anchovies, a faggot of sweet-herbs and an onion; boil it up and thicken it with brown butter, then pour it into your savory pyes when called for." Savory pies such as pigeon pie can be eaten hot or room temperature or cold.
SUMMER BANQUET BLOG HOP GIVEAWAY
Summer is the perfect time to sit outside with a book. I am giving away a signed paperback copy of my book HEYERWOOD: A Novel to a winner in the U.S. or Canada. Just leave a comment for a chance to win (be sure to leave a contact e-mail)! This drawing will close at midnight on Friday, June 7, 2013, and a winner will be announced as quickly as possible. Good luck!
This blog hop will appear from June 3-June 7, 2013. Please visit all of the participating authors for more summer fun!
Hop Participants:
1.
2.
3.
4.
5.
6.
7.
8.
9.
10.
11.
12.
13.
14.
15.
16.
17.
18.
19.
20.
21.
22.
23.
24.
25.
25.
26.
27.
28.
29.
30.