Well, here we are, exactly two weeks before Christmas.  It seems like I just undecorated and put everything a couple of months ago.  Time passes way too fast…but enough about that.  This time of year is a beautiful time, full of major celebrations, of which Christmas and Hanukkah are only two.  My particular celebration is Christmas, but those of you who don't celebrate Christmas may have a similar situation involving other holiday traditions.  Everyone is very busy decorating, shopping for gifts, sending cards or letters, cooking and baking, and otherwise preparing for their own special traditions and celebrations.    All of these activities are going on at the same time we continue to live our regular routine, work, writing, researching, family, and so forth.  We try so hard to make it all perfect…  Which leads us directly to the all-to-common Christmas meltdown.  This year, I am determined NOT to experience one.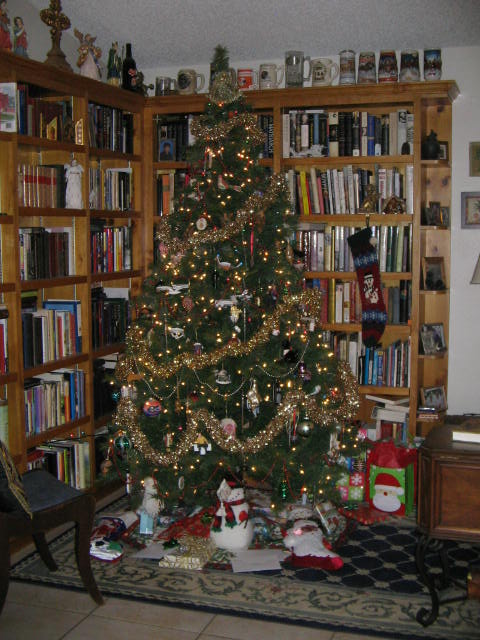 I have put up my tree and some decorations.  Being a woman of a certain age (don't you love that phrase?),  I have lots of decorations that have been accumulated over years and years.  Many memories are involved.  Have I dragged them all out and made careful choices?  No, I have not.  I have put up what came to hand first, and stopped when I felt that it was time.  The tree is in the library corner, just like it was last year, and looks very similar.  (The picture shown  is last year's tree.  I haven't gotten around to taking pictures yet.) 
        Our Christmas card list and cards are waiting on the dining room table.  We will get them out.   My husband and I have already received a number of lovely cards, and a few newsletters, and we are so glad to hear from dear ones at this time of year.  I have at least sent the e-cards to friends and family on-line.  Gifts?  Some shopping is done, some still in process.  I've even had a couple sent.   Giving back to my community is also on the agenda.  A new feeling this year-I don't feel guilty for not having my mailings done at the time I had so hopefully planned.
        This year, I am going to take full advantage of the 12 days of Christmas.  (Not that this is new…  My nearest and dearest usually get cards and packages on a flexible calendar.)  The difference this year is that I refuse to get stressed and upset about it.  It is more important to relax, enjoy the season and the opportunity to share with our loved ones and others.  Getting upset about things only ruins the time you have, it doesn't make anything happen differently or go more smoothly.   Surely it's more important to be able to enjoy the time you have with the people you love than it is to have ticked every item off your list on schedule even if it burnt you to the socket.  We are too hard on ourselves.  It's time to put the focus where it belongs: the meaning of the holiday we celebrate, and the joy of being with those we love.
Merry Christmas!