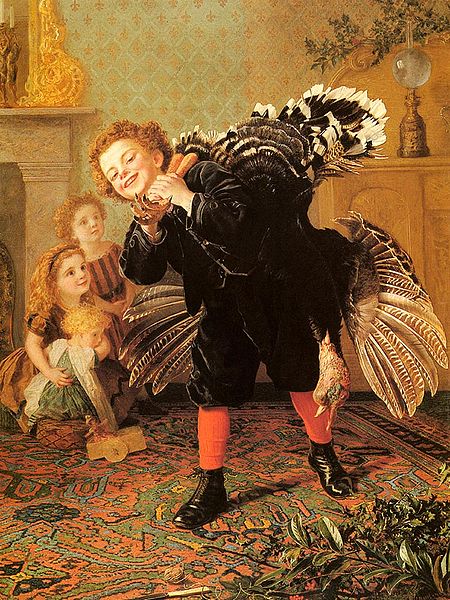 Now that the decorating is finished, and the gifts are wrapped and shipped, it's time to start thinking about Christmas dinner (if you haven't already!)  We will be celebrating with dear friends, and I will be taking a particularly decadent vegetable dish, with parsnips, cream and rosemary.  For many of us, the main course will be the traditional favorites: turkey, ham, roast beef, possibly even roast goose.  Stuffing (or dressing, if you prefer) will also be present in some form.  The desserts are usually fairly traditional as well: various pies and cakes, sometimes a version of the old-fashioned Christmas pudding.   It was the parsnips that got me thinking…
          What would have been served at a Christmas dinner in late 18th century, early 19th century England?  What might Jane Austen have eaten?  As always, when confronted with a culinary question, I turned to old cookbooks.  In my facsimile copy of THE COMPLEAT HOUSEWIFE by Eliza Smith, she helpfully included diagrammed dinner services for summer and winter, showing two courses.  The first winter course includes a giblet pie, roast beef with horseradish and pickles and a boiled pudding; the second features a roasted turkey and an apple pie.  Unfortunately, Mrs. Smith did not include vegetable suggestions. 
          I turned to another old friend: The ART OF COOKERY Made Plain and Easy by Mrs. Glasse (a new edition published in Alexandria in 1805).   While Mrs. Glasse did not lay out the settings, she did include"Bills of Fare" for each month of the year.  December's menu included three courses, again with no vegetable suggestions, except for mushrooms.  One dish in the third course did catch my eye…  Ragooed Palates.  What, I asked myself, could that be?  Surely not what it seems.
          Yes, dear reader, it is exactly what it says.    The palate is, of course, the roof of the ox's (or cow's) mouth.   It was apparently considered a form of offal, like kidneys or tripes, and required extra preparation involving blanching and skinning and so forth.   I also learned that a "ragoo" or "ragout" is, essentially a stew, so possibly Mrs. Glasse's Stewed Palates may have been served as Ragooed Palates for a December dinner.   Fricassee also seems to be very similar to a stew.  Both involve long cooking and a rich, heavily seasoned gravy.   
           Mrs. Smith's fricassee of Ox-Palates included stewing beef, salt, pepper, onion, eschalot (shallot?), anchovies,  and horseradish to make the gravy: then she stewed the palates until tender, cutting them up, and putting them aside.  Then she cut up chickens, seasoned them with nutmeg, salt and thyme and fried them with butter.   The palates were peeled and cut up, then were combined with the chicken in half of the gravy and stewed.  While the stew was cooking, the rest of the gravy was put in a pan, thickened with egg yolks, white wine added with butter and cream.  When ready to serve, the gravy in the pan was blended into the stewed palates and chickens.  When dished up, a garnish of pickled grapes was recommended.  When all is said and done, this sounds like it could be delicious!  (Please remember that this is one dish of several in a course.)
         Both cookbooks contain instructions for vegetables, including broccoli, cabbage, carrots and (of course!) parsnips.  I feel confident that, season permitting, some sort of vegetable dish would have been included.   However, it is interesting to see how heavily the winter menu relied on meat dishes.  It is also a timely reminder that little was wasted in those days.  Somehow, I can see Jane Austen (or the heroine in my work-in-progress!)  sitting down to a festive Christmas dinner of turkey, possibly some parsnips, a Fricasee of Ox-Palates, and a boiled pudding, with great enjoyment. 
Sources:
Glasse, Mrs.  THE ART OF COOKERY Made Plain And Easy.  A New EDITION, with modern Improvements.  Alexandria: Printed by Cottom and Stewart, 1805.  (First American edition.)  In Facsimile, with historical notes by Karen Hess.  Bedford, MA:  Applewood Books, 1997.  P. 59
Smith, Eliza.  THE COMPLEAT HOUSEWIFE: or Accomplished Gentlewoman's Companion.  The Sixteenth Edition, with Additions.  London.  (Facsimile)  London: Studio Editions Ltd., 1994.  P. 52.
Web Sources:
CooksInfo.com  "Ox Palate."  http://quod.lib.umich.edu/e/ecco/004826650.0001.000/1:3.5.3.9?rgn=div4;view=fulltext
Eighteenth Century Collections Online.  Mrs. Taylor's Family Companion… "Of Ragouts".  http://quod.lib.umich.edu/e/ecco/004826650.0001.000/1:3.9?rgn=div2;view=fulltext;q1
Eighteenth Century Collections Online.  Mrs. Taylor's Family Companion… "To Stew Ox Palates."  http://quod.lib.umich.edu/e/ecco/004826650.0001.000/1:3.5.3.9?rgn=div4;view=fulltext
Food Information.  "Ragout."  http://www.ugcs.caltech.edu/~sayyid/culinary/dlist.cgi?food=ragout
Image from Wikimedia Commons: http://upload.wikimedia.org/wikipedia/commons/thumb/0/08/Anderson_Sophie_Christmas_Time_Heres_The_Gobbler.jpg/450px-Anderson_Sophie_Christmas_Time_Heres_The_Gobbler.jpg